NAPS' GIRLS' CAN COOK!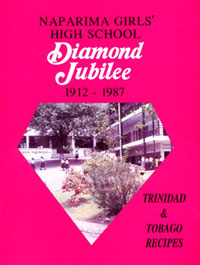 "The de facto Trinidadian cookbook for Trinis both locally and abroad."
" A must have -The perfect book for newlyweds and students!"
The first edition of the Naparima Girls' High School Diamond Jubilee Cookbook launched in 1988 proved to be an international bestseller.
The editional committee of Mrs. Polly Indar, the late Mrs. Dorothy " Bunty" Ramesar and the late Mrs. Syliva Bissessar selected and tested the best recipes contributed by members of the Naparima Community.
Revised in 2002, the Cookbook was updated to be more in keeping with new trends of providing the health conscious with nutritional information.
With the input of Mrs. Celia Teelucksingh as Sub-editor to the Committee, an improved expanded and rebranded version was launched as part of the Naparima Girls' High School 90th Anniversary celebrations on September, 21st, 2002.
"…Not only does the book reflect the multi cultural cuisine of Trinidad and Tobago and the Caribbean but there is a distinct international flavour…"
Debra Sardinha –Metiver
Executive Chef , HILTON HOTEL, TRINIDAD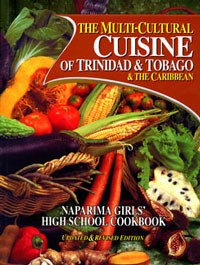 This revised edition provides an eclectic collection of classic and innovative recipes for a variety of culinary tastes. Its tantalizing photographs, essential nutritional information and culinary notes make it the ideal kitchen reference.
"….. a complete kitchen manual with comprehensive easy- to follow directions… a down right good "Trini Cooking.."
Polly Indar .Editor
The Multi Cultural Cuisine of Trinidad and Tobago and the Caribbean
Naparima Girls' High School Cookbook.
The school continues to benefit from the hard work and dedication of all those who contributed to the production of this world renowned cookbook,(it can be found in The White House, USA), since many of the projects undertaken by the school are partly funded by proceeds from the sale of this book.