Our Academic programme is a very comprehensive one – students at the various levels pursue syllabi which fulfill the requirements of the Ministry of Education.
FORMS ONE TO THREE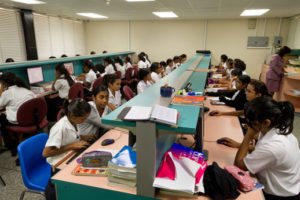 Students study the following National Curriculum subjects—English (which includes Language and Literature), Mathematics, Integrated Science (in Form three this is divided into Chemistry, Biology and Physics) Social Studies (this includes Geography and History) Visual and Performing Arts (this includes Art, Drama, Dance, Music), Physical Education, Information and Communication Technology, Technology Education and Spanish.
They are prepared from Form One for the National Certificate of Secondary Education (NCSE) Examinations. Final grades are based on continuous assessment from Form One to Three and an external examination at the end of Form Three. The success rate in these examinations averages 98% and over.
At this level students also pursue additional subjects. These include French, Religious Studies, and Food and Nutrition (in Form Three).In addition they are exposed to sessions in Personal and Social Development once per week.
FORMS FOUR AND FIVE
At this level students choose subjects based on the careers they would like to pursue later on in life. They are prepared for the Caribbean Examinations Council Ordinary level examinations where they are awarded a Caribbean Secondary Examination Certificate (CSEC). The following subjects are offered at this level—Biology, Caribbean History, Chemistry, Economics ,English A, English B, Food and Nutrition, French, Geography, Information Technology, Integrated science, Mathematics, Additional Mathematics, Music, Physical Education, Physics, Principles of Business, Technical Drawing, Theatre Arts and Visual Arts.
Certification is based on a six point grading scheme which reports on the performance of the candidate under six overall and profile grades.
FORM SIX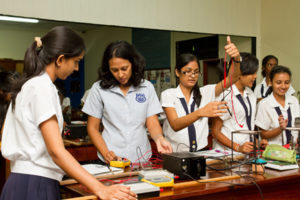 At this level students are prepared for the Caribbean Examinations Council Caribbean Advanced Proficiency examination. Each student is required to do at least three two-unit courses and Caribbean Studies and Communication Studies. The subjects offered at this level are Accounting, Applied mathematics, Art and Design, Biology, Chemistry, Computer Science, Economics, French, Spanish, Geography, History, Information Technology, Literatures in English, Management of Business, Physics, Pure Mathematics, and Sociology. The CAPE examination uses grade I to VII in reporting candidates overall results along with the profile grades A, B, C, D, E, F, G.
The school does not rank students and our internal grading system is:
Commendation Marks are awarded to students who:
Obtain 75% or more in a subject in Forms 1-3, or 65% or more in Forms 4-6 in each subject at the end of term exam
Receive no bad marks for an entire term
Have a perfect attendance in a term, except for those students who have been given 3 days bereavement leave due to the death of an immediate family member
Reach the highest level of National competition in activities sanctioned by the school- sports, performing arts, competitions etc.
Commendation Certificates
These are presented to students during assembly at the beginning of each term as follows:
| | |
| --- | --- |
| Forms 1-3 | Any student gaining seven or more commendation marks |
| Forms 4&5 | Any student gaining five or more commendation marks |
| Form 6 | Any student gaining three or more commendation marks |